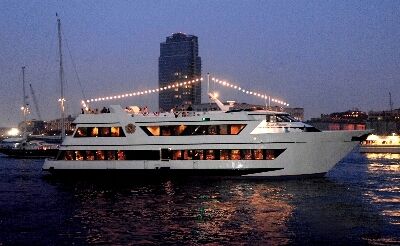 Royal Princess is a great value because your special event will be hosted in style with the great service and luxurious surroundings of a splendid yacht. A yacht that is exclusively for you and your party. Unlike yacht charters that give you a deck but have another party on another deck, your event on Royal Princess will only host you, your guests and our great staff. There's no event more memorable than one on a private dinner cruise yacht with the New York City skyline!
There are several factors that comprise the price of a NY private yacht charter. Please click here to request a quote or call us at 888-755-BOAT with any questions. Remember, you are not sharing the space with other parties, like on so many other boat charters, the privacy of the yacht itself is what will set your event apart. Therefore, while most people think "price per person", there is a charter fee incorporated in the price.
Pricing starts at $115 per person (75 minimum – Sun-Friday or 100 on Saturdays). This includes 3-hour cruise, passed appetizers or buffet, non-alcoholic beverages (bar upgrades available – $15pp for Beer/Wine and $20pp for open bar).  Royal Princess Rates 2018.  WE ARE ALWAYS RUNNING SPECIALS, BUT YOU HAVE TO CALL 646-245-4374!
The Length Of Your Cruise:
Our average cruise time is 3 hours plus 30 minutes to board, and 30 minutes to disembark, for a total of 4 hour charter. Factored into the price is a charter fee. For wedding receptions, we usually do a 4-hour cruise. If there ceremony is onboard, there is an additional 30 minutes for dockside ceremony.  Please ask about our wedding packages.
Day of the Week:
Monday-Wednesday evenings and day-times
Thursday, Friday, and Sunday evenings are popular.
Saturday evenings are prime time.
Type Of Menu/Bar Selected:
Cuisine is important to us and your guests, especially on our yacht. We have French Culinary trained chefs who prepare menus on board. The menu and bar selection plays a big part on pricing. See our Various Menus.  We can also reduce pricing by limiting the menu and bar options…During the daytime, we can also provide a nice cold lunch or brunch. We can also have our on board chef custom prepare a menu for you. We do allow for outside catering, as long as Caterer is fully insured. Pricing is different, and minimums apply. In terms of bar, we offer Non-alcoholic beverages, limited beer, wine, soda or full open bar.
Guest Count:
Your guest count affects the pricing as well. We usually have a 75 person minimum Sunday-Friday and 100 person minimum on Saturday. If your guest count is less, we can work with you, and a charter fee is implemented.
Entertainment:
Whether it's our House DJ, a live band, Mock Casino Gambling, or other entertainment, we can price this out for you.
Operational Fee:
There is a 20% Operational fee which goes towards fuel and other costs.
Pickup Location:
Royal Princess is based out of Liberty Harbor Marina in Jersey City, NJ and often does pickups from Pier 81 in NYC. Every Marina has a dockage fee. Royal Princess charges $1,000 out of Liberty Harbor or $2,000 from Pier 81, in NYC.
Tax:
If we're picking up in New Jersey, we charge NJ sales tax. If we're picking up in NYC, we charge New York sales tax. If you are Tax Exempt, you must provide a Certificate.