NY Boat Charter began in 1998 by Capt. Rob Bellanich. He had a 42′ Chris Craft motor yacht and took couples and small parties up to 6 guests out on his boat he named Risk It All. Capt. Rob met singer/songwriter Lezlee Peterzell in the summer of 1999, and his business was growing rapidly.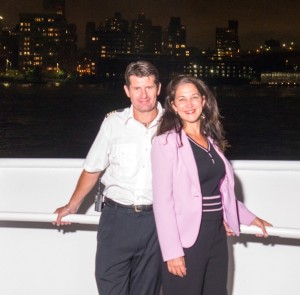 Growing up on boats and having experience in the corporate and entertainment world, Lezlee helped Capt. Rob market the business while he helped her with her singing career (see www.lezlee.com). They fell in love. While she was touring Europe, Capt. Rob (who has stage fright) proposed to Lezlee onstage in Prague, Czech. Republic and a year later, they were married.
Meanwhile, demand for larger parties suddenly grew. Rob encouraged Lezlee to book larger parties on other yachts. She began NY Yacht Charter in 2001 (now NY Yacht and Boat Charter, Inc,) and booked charters and was the event planner for corporate events, weddings, and private parties (see www.nyyachtcharter.com). Lezlee realized she had a knack for sales, and Capt. Rob said, "Hey, why don't we get our own Private Dinner Cruise Charter vessel."
So, they bought the Festiva in 2002 (40-100 guests) and Rob put his talents to the test by fully renovating the yacht (www.festivacruises.com). He transformed the vessel which made it extremely popular. Having booked and coordinated numerous weddings, Lezlee obtained her license to conduct Marriage Ceremonies (she calls herself a 'Nautical Priestess') aboard the yachts which she adores. Lezlee handles business affairs & event planning and Rob handles maritime affairs. They make a great team because they handle their areas of expertise separately…How else could they stay married!
Today, NY Boat Charter and NY Yacht and Boat Charter have one of the best reputations of service and integrity in New York. In January of 2005, Capt. Rob and Lezlee created their most valuable asset – the birth of their son who they appropriately named "River."
In 2007, Capt. Rob was extremely comfortable in the luxury yacht charter and hospitality business and decided on purchasing a larger vessel, the Motor Yacht Royal Princess. Royal Princess handles larger parties of 100-180 guests. The yacht has been one of the most popular charter vessels in the NY Harbor appearing in featured film and commercials.
In 2009, Capt. Rob and Lezlee decided to have their second princess, and their daughter Skye Marina was born!
With their kids, River and Skye, now in the middle of their "childhood", they wanted to give them a real yachting experience like they both had.  So, they recently purchased a 54′ Beneteau sailboat, "Al Vento" which is now also available for charter in Nyack, NY for Hudson River Cruises just north of the Tappanzee Bridge.  www.nyackboatcharter.com