Unique Corporate Meeting Space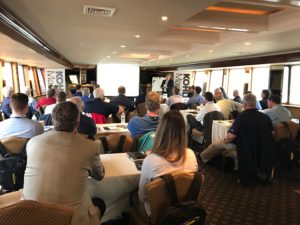 Let's face it. Sitting in a chair for hours, looking at PowerPoint presentations, and listening to speeches can feel long and tedious. But guess what? If you simply upgrade to a unique venue, like a yacht, the experience is not only better, more educational, but also anticipated.  After the dockside meeting, you can do a short cocktail or dinner cruise which feels like a reward.
Business meetings done on a yacht would definitely be more productive than the usual one. If there are any concerns for your business, however, services like an employment tribunal legal advice may be worth looking into.
3 Great Reasons to host a Dockside Corporate Meeting on a Yacht
IT IS DIFFERENT
YOU HAVE A CAPTURED, FOCUSED AUDIENCE
"What made our meeting great on the Royal Princess was the fact that we were isolated from the outside world and everyone could focus on the agenda at hand.  The size of the boat allowed us to accommodate our group in different areas of the boat during the day which kept the meeting fresh and people attentive.   We capped the night off with a wonderful cruise that made the day perfect. The staff was professional and the food was exceptional.   I would recommend anyone hosting a business meeting on the Royal Princess."