Want to do something really special, unique, and over the top?  Whether it's a Sweet 16, Birthday, Anniversary, Engagement Party, Bar/Bat Mitzvah, Reunion or any other kind of special event, chartering ROYAL PRINCESS is the perfect way to enjoy the NY Harbor.  Everyone wants to celebrate.  So, let's do it in elegance and style!
Here's what some of our guests have to say…
"I had the best birthday party of my life! It was a disco theme, and everything was perfect. Staff is amazing, from Captain Rob and Lezlee, as well as the chef Linda, and all the serving staff. The decorator Betsy transformed the whole boat into a  disco club and dinner party. We had an amazing time and the photos near statue of Liberty are epic! Thanks for everything, I recommend using this company without reservations! Thanks again!" – Amanda Forsyth, http://amandaforsyth.com/  
---
It was a wonderful venue for our First Anniversary celebration. We had guests from overseas and all over the U.S. They could not stop speaking about how wonderful the evening was. Looking at Statue of Liberty so up close was amazing!
Lezlee and Rob are wonderful to work with. They are flexible and tried to accommodate our change requests until the last minute. 
We had live music and Rob helped set up the band and arranged it so that they moved to different levels as the event continued.  
The crew is friendly and professional. They took personal care of the elderly guests. My husband and I have decided to host this event on this boat at least once every two years from now on.
We highly recommend NY Boat Charter!
– Mausumi and Sanjay Dasgupta
———————————————————————————————————————————————————————-
"We recently held my mother's surprise 60th Birthday Party aboard the Royal Princess yacht.  The event was more than I ever could have imagined.
After researching several private yachts the decision was clear. I decided on the Royal Princess because of how friendly and helpful Lezlee was. She was very accommodating and knowledgeable during the entire planning process and was always available to answer my calls/emails. She also was very careful to help keep the surprise a secret.
The planning process with Lezlee and Rob (the owners) and Kathleen and Betsy (the Portable Garden) went so smoothly even though I was in Long Island, NY and couldn't be there to oversee everything. They were very accommodating to my father's schedule and invited him to the boat on numerous occasions to taste the food, meet Captain Rob and the other staff members, and look around the boat.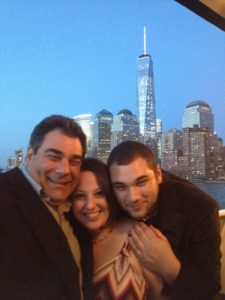 The day of the party went so calmly. We arrived at Lincoln Harbor in NJ and were able to find the boat with ease. The staff on board had everything ready by the time my sister and I arrived and it was exactly what we wanted and more. The flowers were stunning, the boat was immaculate and we even had a bridal suite to keep our things.
The staff was so helpful the entire day (especially Carol our maître d'). She made sure everything was perfect. My mom arrived and was completely shocked!  Then the party really got started. The music started, the drinks were flowing, the food was delicious, and we had the best time. The views of the New York skyline, the Freedom Tower and especially the Statue of Liberty were breathtaking.  The captain stopped in front of the Statue of Liberty so we can take spectacular pictures and capture this moment forever. Many of our out of town guests had never even been to NY and getting to see these sights up close was an experience to remember.
I would recommend the Royal Princess yacht to anyone who wants a completely out of this world experience for any occasion. I definitely plan on using them again in the future. The money and time planning was well spent. It was a magical night that I know my mom and our family and friends will never forget.
A big thank you to Lezlee and Captain Rob for making our dreams come true." – Jenna
————————————————————————————————————————————————————————–
"I booked my daughter's Sweet 16 yacht charter on The Royal Princess.. The planning for this event was the easiest big party we ever had. When I walked on the boat that night, I was so surprised not only to see the amount of food but how beautiful it was displayed.  We had such a great time as well with all the 125 kids on board. They danced, ate, and enjoyed all the sites of the New York Harbor. I couldn't help the tears as we passed the Statue of Liberty because I thought of my maternal grandmother who arrived on these same waters when she was only 16, and certainly didn't have what we provided for our children. She moved here for a better life for her and her family and worked so hard to make our lives better. We are so blessed to have all our family and friends in good health which our immigrant ancestors wanted us to have. Planning this event wasn't hard, even though we changed the entire menu around and decor on the Royal Princess to set up a "club type " atmosphere.
Lezlee was there for me, as the voice of reason. Lezlee was the main reason why I booked this venue. Her reassuring soft calm voice got me through all my questions about the boat and how things can be done. She knows what will work, yet will never say it can't be done. Also,
Capt Rob
will go out of his way to make sure every detail is attended to, exactly the way you want it to be, even if it means changing the menu, moving a dance floor, and changing the floor plan. I can't thank him enough for his efforts. He went out of his way for us for so many things, even getting the sweet potato fries. He is always working on the Royal Princess, caring and keeping it so beautiful. Captain Derek manages to create the smoothest and scenic cruise ever. We didn't miss a site and were exactly on time. The views were breathtaking, and it wa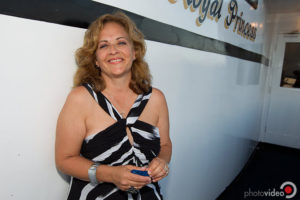 s so enjoyable to have such a confident captain. We hired the yacht recommended event decor specialist, Kathleen Brochin, who was so amazing, creative and organized. She takes so much pride in what she does. She loves her work, and it showed. I can't tell you how many details she attended to. She came up with lucite display boxes for the 1000 mini cupcakes to be displayed on, with grass trim and flowers. It was so breathtaking. She was there from an early hour and stayed way after the event. She was the watchful eye, making sure all the details were exactly as we wanted them. You should have seen my daughter's smile, the entire night. My thanks to her, for making it so successful. The crew on this ship was considerate, attentive, and so pleasant. They were around to help and serve nonstop. The kids enjoyed their cheerfulness. Everything was "in order' The boat was kept clean, and guests were cared for. We didn't have any alcohol, and the one bartender was everyone's favorite with his smiles, pleasant conversation and jokes! 
Oscar, the DJ
, had a great gig going on.  The kids didn't stop dancing! It was easy. No need for motivators! He is so pleasant and has great equipment. The sound was awesome and the playlist was endless. We loved him!This was truly a magical night. Everyone orchestrated and worked so hard to make it so perfect. I cannot forget this party, and thank goodness for the photographer that Lezlee recommended, Yishai, who captured the entire story from beginning to end. I can't thank Lezlee and Capt Rob enough for making this the best time for Caroline!!" – Angela  Varlotta ————————————————————————————————————————————————————————-
"Our guests are still talking about what a great event, our Bat Mitzvah, was.  Everyone had a nice time and thought the food, DJ and boat were fantastic." – Mary Flum


—————————————————————————————————————————————————————————
ABSOLUTELY AMA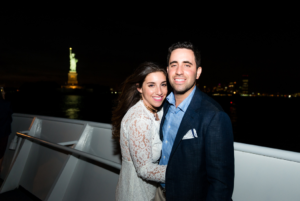 ZING! We were so happy with our Engagement Party and couldn't be more thankful! The weather was absolutely beautiful, the staff was incredible and we overall had the best night.  – Taryn Garshofsky
 "We had a fantastic night, and everyone is still raving about it! " – Jonathan Ackerman 
——————————————————————————————
WOW!!! What an amazing experience!!  This five-star crew transformed the inside of this exquisite yacht into a gorgeous, elegant scene.
The food was FANTASTIC, the customer service rivaled NYC's most luxurious hotels, and the staff made every single guest feel honored. Our guests enjoyed fine dining while viewing the most spectacular sights of NYC. The views were so breathtaking that many of our guests took photos that they will be using on their Holiday greeting cards.  It has been three weeks since our party and our guests are still gloating.  THANK YOU to the staff for making my birthday so incredibly special! HIGHLY RECOMMENDED for the discerning!! – Marla Luciano