WEDDINGS IN NEW JERSEY (NJ), and NYC (New York City)
Royal Princess offers a unique and imaginative alternative to catering hall, restaurant, and banquet hall style weddings. Complete with a bridal suite, with Leather and Suede Sofa, LCD flat Panel TV, and a marble bath room,  you'll be treated as a Princess on NY Boat Charter's Wedding Cruise!
Once aboard your own private wedding yacht, guests enter a world that is usually reserved for the rich and famous. Luxury surrounds you as you embark on an romantic voyage of wedding bliss.
Imagine dancing and dining as you gently cruise New York Harbor in Lady Liberty's Shadow. Pass under the landmark bridges whose lights sparkle like diamonds against the backdrop of the New York Skyline. Your guests will marvel at the famous buildings as they trade stories and reminisce. A truly memorable experience is inevitable.
With a yacht wedding, you can treat your guests to changing panoramic views combined with imaginative cuisine, first class accommodations, great entertainment, and attentive professional service.
Here's what some of our wedding couples have to say…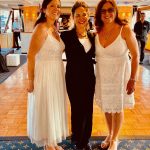 We want to THANK YOU for the incredible wedding you helped us put together.  Compliments are still coming in and they all share the same sentiment about how perfect everything was.
Betsy did an amazing job with the flowers, they were so happy, colorful and beautiful. Dinner and appetizers were plentiful and delicious.
My friend from the UK can't stop talking about how delicious the cake was.  Thank you Tatiana! Carlos, our DJ extraordinaire, was unstoppable.  Kevin, our photographer, and Merrissa our Hair/MU made us look amazing.  I still can't believe it.
Lezlee – you & your staff are top notch. You all took great care of us from the moment we arrived. Our photos are coming in now and I will send you a few for your portfolio.
What a wonderful night!
Patricia & Tammy
_______________________________________________________________________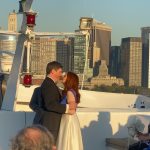 We had a magical night for our wedding. Lezlee was very responsive over text and phone during the planning process. The food was delicious and the staff friendly and skilled. I gave them an idea of what I wanted for decorations and they put together my vision flawlessly. The boat was extremely comfortable with 100 guests, and we got nothing but rave reviews from everyone who attended.    "When everyone has the same thing to say about a venue, you know things went well — "I've never had so much fun at a wedding reception!" – Olivia Croom
——————————————————————————————————————
My guests arrived at 6:00 p.m. at Liberty Landing Marina and were greeted by a professional and courteous staff who had in hand our signature drink, a cocktail made from Chambord and a sparkling wine from Hopewell Valley Vineyards in Central New Jersey. After boarding, staff politely directed our guests to the second floor of the boat for cocktail hour and delicious hors d'oeuvres. Then the real fun began when guests found their way to the third floor, an open deck with a gorgeous view of the New York skyline.
    When dinner was ready, it was a struggle to separate our guests from their sightseeing, but when everyone ultimately made their way to the first floor dining area, they were treated to a plated salad waiting for them at their seats. The entrees, served buffet style, were excellent and thanks to our Maitre D, Carol, our guests quickly queued and were ready to eat. After dinner, our guests made their way back up stairs for dancing and drinks.
The beauty of a wedding reception on a yacht like the Royal Princess is that guests who don't want to sit at their table or dance are free to immerse themselves in an astounding view of New York harbor. From the Freedom Tower to the Williams Bridge, our guests were able to immerse themselves in an astounding view of the New York harbor. Further, the top deck of the Royal Princess is perfectly arranged to ensure as many guests as possible can take advantage of this unique view of New York.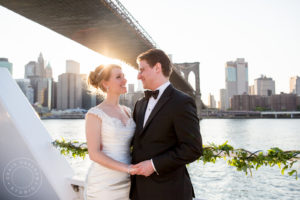 As the night drew to a close, our only regret was that the evening had to end. Captain Rob's staff was kind, courteous and professional, helping us pack up our gifts and decorations and carrying them to our cars. Moreover, the staff helped hand out our party favors — personalized wine glasses — to all our guests as they de-boarded.
    Captain Rob and Lezlee run an excellent ship. From the moment our guests boarded to the time our cars were packed, we felt safe in good hands.
Ultimately, if we had a chance to do it all over again, we would no doubt choose the Royal Princess as our reception venue. Our greatest thanks go out to Captain Rob, Lezlee, and the entire crew of the Royal Princess, without whom our wedding night would have been impossible." – Meredith Dugandzic
———————————————————————————————————————————————————
"NY Boat Charter created the perfect day for Miranda and me. The team's attentiveness and ability to adapt to our needs and wants was remarkable during the planning phase. The night was executed flawlessly. One might think that having the event on a boat would make accessing the venue difficult, but Rob and Lezlee made it available to us whenever we needed, from the time we picked a date until the big day. They talked us through our various floor plan and menu options, but were very receptive when we wanted things a certain way. Lezlee's ceremony is wonderfully authored and was delivered perfectly. We wrote our own vows and pairing that with Lezlee's ceremony left very few eyes dry in the audience.
Our expectations started off very low for the food quality… thinking… "this is a boat, how good could the food possibly be?" Much to our satisfaction and surprise,

the food was the best we've ever had at a wedding venue.

.. and the buffet is the right option. It is a very nice touch having the food brought to your bride & groom table as well.
Our expectations were exceeded with NY Boat Charter.  The Royal Princess's crew took care of us, took care of our guests, and gave us a lifetime of great memories." – Steven and Miranda
——————————————————————————————————————————–
My husband and I found the most unique, beautiful and memorable place to have our wedding on the Royal Princess! We wanted fun yet classy site, and this gorgeous yacht was the perfect venue. I looked at 3 other boats before setting on the RP and it was a decision well-made – the RP was very clean (windows, carpet, bathrooms), looked well-maintained (stairs, wallpaper, bar/table surfaces), and had a luxurious interior finish (the middle deck was especially impressive). There were some lower-cost alternative yachts also capable of fitting 150-200 people based in Jersey City/Hoboken, but those boats looked much older and less well-kept – maybe good for sweet sixteens, proms, and company parties but not a once-in-a-lifetime event.
I am a Type A
and hands-on sort of bride, but Captain Rob and Lezlee (business manager) were welcoming and accommodating every step of the way while Carol (the maître d') and her staff were ever helpful and respectful. They demonstrated significant experience so I knew that my wedding would run smoothly no matter what, but also remained flexible enough to suit any last minute needs (like escorting guests up and down the three decks multiple times, letting me string all sort of lighting and decor around the boat the night before).
For a prime NYC wedding site (we docked in Manhattan for an extra fee), this is well worth the cost! The food was delicious and plentiful (we opted for a buffet so people could move more freely around the deck and enjoy the incredible skyline views) and Rob made sure to stock sufficient quantities of alcohol so my guests were happily dancing all night (he even filled my special requests for beer – whites and stouts, no ales!).
I was especially lucky to have the perfect weather (not too hot or windy, with few clouds that made for a spectacular sunset) and many of my guests are making shots from our wedding their Facebook profile pictures, as the views are definitely photo-worthy! If I had another chance to ride on the Royal Princess, sign me up!! – Jeri Zhao
_____________________________________________________________________________
My wife and I were looking for something a little different than a just regular venue.  We're both from New York and like most New Yorkers living a busy lifestyle we don't have the opportunity enjoy what New York City really has to offer.  We decided that it would be a great idea to charter a boat which will cruise the NYC Harbor allowing us and our guest to enjoy the best sights in this world. Once we decided our search began.  We went and viewed several boats , some were too big and some too small.  The Royal Princess was perfect for what we needed but we were not sold just on the size.  After seeing how some of the other boats were managed (businesslike) we decided to go with the family run style of Capt. Rob and Lezlee.  We had the pleasure of meeting a groom right after his wedding when we met Capt. Rob for the first time.  The groom was more than eager to show us pictures of his wedding and tell us how everything went so smooth.  He did have one complaint. He stated that the night just went by too fast.  I could live that!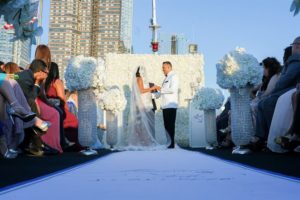 We booked the Royal Princess in April for our late August wedding.  So as you will assume we were pressed for time for all of the planning which had to be done.  I can't tell you how often I called Capt. Rob. or Lezlee for their opinions or questions which I had.  They made themselves more than available to me. We had different vendors making deliveries the day of the wedding.  It was nerve wrecking not being there to supervise them.  Capt. Rob was there early to receive them and make sure things were where they had to be.  If he had any doubt, he would send a text to confirm with me.  This was a bonus because neither one of us had the time to delegate the vendors and we did not have a wedding planner . Capt. Rob coordinated with the vendors to make sure everything was in it's proper place.
The day of the wedding arrived.  Our guest were pleasantly greeted by the staff and quickly began the enjoy a beautiful day on the water which we were blessed with.  We had a beautiful ceremony on the top deck.  Our guest were able to have an intimate feel of the ceremony.  Compliments were returned to us by the attention they received from the staff as well as the food they ate.  I believe our guests only left crumbs haha. The party on the mid deck was insane.  Our guest danced, drank, and laughed so much.  Everyone was very comfortable and just having a great time. The end was drawing near and Capt. Rob. was benevolent enough to actually give us an extra half hour.  I truly appreciated it as well as our guest.  It was true what the groom who we met earlier had stated, it does go by too fast!
I can't thank you enough Capt. Rob and Lezlee for allowing us to have the perfect wedding.  So many of our guest are still talking about it and due to social media many people who did not attend are also talking about it.  It was a dream wedding come true.
Thank you Rob and Lezlee with all our hearts, – Tulio and Maribel
_____________________________________________________________________________
Rob and Lezlee,
We can't thank you enough for allowing us to have the best day of our lives, aboard the Royal Princess.  The attention to detail, and the staff taking that extra step, showed that you all really care about what you do.  Everything went by so smoothly and really was a testament to the fact that you guys know what you're doing.  It was just so beautiful!  There were many people that said this was the best wedding they have ever been to.  I have to agree with them … Even though my opinion is a wee bit biased. :)
Not only were the views spectacular, but the food and service were equally as impeccable.  Todd and I were getting compliments all night.  We are so thankful that you referred us to purveyors you have worked with in the past, as well.  They were not only professional, but truly listened to what we wanted and went above and beyond.  It made the wedding planning process that much easier.  Betsy, from the Portable Garden, did an amazing job with the flowers and decorations.  Everyone complimented the flowers, decorations and table settings.  Oscar and Dan, the DJ and Emcee did an amazing job as well.  The dance floor was never empty!
We are forever in your debt, and will recommend the royal princess to anyone that will listen.  You truly deserve all the success and happiness your business brings you, in the years ahead.
Take care, and once again, thank you!
– Eric and Todd
——————————————————————————————————————————————————–
We couldn't have chosen a more perfect venue to host our big day. Rob and Lezlee were outstanding from the first call through picking-up leftover items a week after our wedding. They are a great team to deal with – Lezlee manages the business while Rob manages the boats. I've never been a huge fan of the typical NJ wedding venue scene and always wanted something different but never in my craziest dreams would I think my husband and I would be able to pull off a private wedding on Yacht. With one google search, I was impressed from the moment I found the Royal Princess website and my first call with Lezlee made everything a reality.
For the average price of a typical wedding venue in NJ, you cannot beat the package the Royal Princess offers. Their prices were highly competitive and they do not try to lure you in with an attractive base package prices only to start adding money for every little change or custom request. They made every one of our requests happen with very minimal – to no extra charges, that were not stated up front and even made suggestion along the way to how to save money.
They are one of the only venues that worked with us to have a four-legged child (dog) be apart of our ceremony as the ring-bearer, plus Lezlee and her daughter offered to walk him back to our hotel room at the Sheraton after the ceremony, instead of wasting time to hold the boat and have a family member do it. I would to also give a HUGH THANK YOU to all of their staff that day as well – the day would not have went over so perfectly without you guys. – Carina Wise
_______________________________________________________________
"Our wedding last weekend was absolute magic. In fact that's the word so many people used to describe it. We just continue to hear raves — "the best wedding I've ever attended "(and they'd attended a lot), "enchanting", "spectacular" — all superlatives! . Every detail, every effort, your graciousness, your unbelievable energy. I'm in awe. From the moment guests embarked, announced by DJ Dan, to the moment they disembarked (after the fireworks), there was so much to take in and enjoy. You did such a beautiful job as officiant and then, putting on a different hat, as singer for our first dance. DJ Dan did a great job with the music — changing throughout to suit the moment. He, Miles, and Kathleen all spent much time ahead to make sure they knew what we wanted.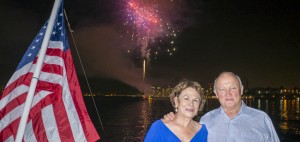 They captured our vision so well. Capt. Dan and Capt. Rob got us to the perfect place at the perfect time to enjoy the fireworks and navigated around a cruise ship to get us started on our way. Carol's tender support for a stressed bride was very appreciated. Kathleen's table settings and her flower arrangements were gorgeous. All the servers circulated and anticipated with smiles on their faces. And the food was delicious and so artistically presented. Thank you, Chef Linda! I know there was so much behind the scenes to create such a seemingly seamless event. And, oh, that beautiful weather. Weren't we lucky on that! The breeze on the top deck with the perfect temperature — looking at that glorious skyline, passing the Statue of Liberty, watching the fireworks. I will cherish so many images from this past weekend for the rest of my life. I couldn't have dreamed this wedding!"  – Meredith Knight
—————————————————————————————————————————————————————————
Hi Lezlee – I cant say thanks enough! What a wonderful, exciting, fabulous evening aboard the Royal Princess. All of our guests were so thrilled with the venue and the food and the service; but we knew they would be. You and Capt Rob are fantastic. The Royal Princess is aptly names – except I was tempted to cross out the last s in princess…..to make it the Royal Princes for our wedding…lol
Everything was just terrific. The best "wedding" food, it's a crime to call it wedd
ing food because it was better than most restaurants. Carol did an amazing job last night, as did the entire crew.
If ever you need a recommendation, or someone asks to speak to a previous customer, count us in. The whole thing went way too quickly, which just affirms what a great time we had.
I was speaking with my brother on deck 2, and I looked out the window and saw we were pulling into the dock. I turned and told my brother and said OMG were docking. He said, what? You mean it's over already? Best freakin wedding ever! – this is my brother who owns the tuxedo rental shop, so he's seen a few weddings in his 30 years with the shop…lol.
Thanks again. It was truly amazing.
Facebook is exploding with photos and comments from our family and friends on the venue and the entire evening – Vincenzo Russo
————————————————————————————————————————————-
We can't stop thinking and talking about our wedding!  It was a huge success; surpassing all my expectations!
THANK YOU for ensuring our day was magical!!  – Claudette and Jeff
——————————————————————————————————-
What a perfect day! Our special day was so much more than we expected. The staff's attention to detail and attentiveness was greatly appreciated! The house
DJ Oscar and MC Dan Dan were very thorough and knew exactly what my husband and I were looking for. Everyone was cutting a rug by the end of the night! Due to dietary restrictions, we requested that all dishes be made gluten free, unbreaded and made with only olive oil. Chefs Linda and David were very accommodating! We couldn't have asked for a better wedding. My husband says he wishes we could get married every month! Thank you Royal Princess and NY Boat Charter! – Stephanie Baumlin
_________________________________________________________

"My husband and I could not have been happier with our wedding on the Royal Princess.  Every detail was managed as we had asked and planned, and the crew was amazing, attentive, and thorough.  From the drinks upon boarding to the ceremony and reception, what we imagined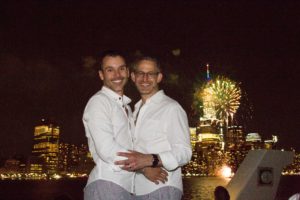 and arranged was delivered professionally, smoothly and without need for us to intervene at all.  We were left to enjoy the day, each other, and our friends and family.  
All of our guests continue to rave about the fun they had, as well as the relaxation and sightseeing of an amazing cruise.  The combination of scenery, ceremony, sailing and celebration could not have been more perfect for us, and it was truly a magnificent evening.  Thanks to Lezlee, Capt. Rob and all the great crew members on board, our day was an amazing dream come true." – Ken Kramer
_____________________________________________________________________________
I had my wedding on this beautiful yacht two months  ago. Thanks to God we had lovely weather and everything went exactly as we planned. We had an evening function and it's the best choice for lovely pictures. Lezlee and especially Capt. Rob were really helpful and friendly and directed us in many ways to fulfill our dream. I always dreampt of having my wedding in a unique and fabulous place and I am happy to say that I made the right choice by choosing Royal Princess. All the crew members worked as team to make everything picture perfect.  I will definitely recommend this place to anyone for any special occasion. Thank you very much guys for the lovely experience. Looking forward for another event with you guys – Sonali Dilushika
——————————————————————————————————————————-
"I can not express my appreciation for NY Boat Charter.  Lezlee, Rob and their fantastic staff made my wedding day the most memorable, beautiful celebration ever.  Lezlee made the planning SOOO easy!  She comes equipped with referrals for some of the most incredible providers out there (flowers, 
photography, music,cake, etc.).  She was fun, responsive and easy to work with.  Our experience on board the yacht was magnificent.  Our guests were absolutely amazed at the beauty of the boat, the quality of the food and the way Carol and her staff serviced all of us.  We left the experience wanting more! If you are looking for a remarkable celebration….look no further.  You will not be disappointed!!"  – Amy L
——————————————————————————————————————————-
"It's been a few days since our wedding on The Royal Princess Charter Yacht this past Sunday, October 2nd, but Sean and I continue to hear great feedback from our guests. Everyone has raved about the hors d'œuvres, the main meal, the enthusiasm and professionalism of the staff and crew, and quite simply how much fun our wedding was. To judge from all the people who mentioned it, the candy table you put out was a huge hit. So was the goat cheese and fig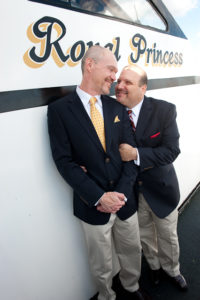 spread during the cocktail hour (how did I miss that?!). The music was perfect, with the processional and recessional music coming off just right. I'm glad we went with your recommendation of Langdon for the flowers: everyone remarked how great the arrangements looked. But the one comment I keep hearing again and again is just how fun and friendly and just plain nice the staff were during our cruise. Having attended a fair number of boring weddings myself, it's nice to know that our guests never wanted our event to end, finding the whole experience unique and fun. My only regret is that it all went so fast. Oh, and that we didn't eat more of those great hors d'oeuvres."
– Sean and Alex (see You Tube)
——————————————————————————————————————————–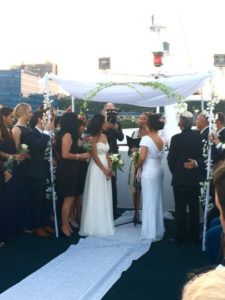 My wife and I recently had our wedding on the Royal Princess! Rob and Lezlee were so fantastic throughout the entire planning process. Our wedding day happened to fall on the day that Tropical Cyclone Hermine was set to hit the NYC area. Rob stayed so cool and kept us updated the entire day. Both he and Lezlee bent over backwards to make sure that our event took place with as little interruption as possible from the impending storm. Luckily, the weather ended up absolutely perfect for our event! We danced the night away cruising around NYC. It was truly an event to remember. If you are looking for a unique event or wedding experience, we would definitely recommend the Royal Princess! – Einav Shoukrun
__________________________________________________________________________
My husband and I recently held our evening wedding reception on the Royal Princess yacht and the event was amazing! The experience wasn't just wonderful because we had a unique opportunity to have an ongoing dance and dining celebration while we cruised around Manhattan, we got to give our out-of-town guests a view of NY that even some residents don't have a chance to see.  We stopped in front of the Statue of Liberty so all our guests had a chance to take spectacular photos of family and friends.  Almost every guest I spoke to that night said he or she boarded with ease and complimented the design, decorations and energy of the yacht.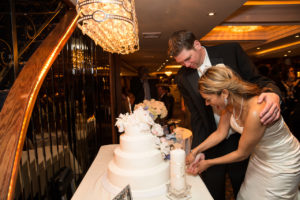 Our entire planning experience from start to finish with the yacht owners and the vendors they recommended was a smooth and enjoyable one.  The 2 event planners Kathleen and Lydia (recommended by owners Leslie and Rob)  followed through with great execution of our wedding reception plans and added effective and creative solutions.  Also, the staff including the manager, chef, captains, photographers, M.C. and DJ kept the food coming and music lively and on point with my request list :-)  Also, we requested a few things to be changed in the couple weeks prior to the event and even during the event, and the staff was able to adapt to the requested changes quickly.
I would highly recommend the Royal Princess for a number of events including weddings, birthdays and corporate parties as well.  (I know the yacht can hold many guests, I think up to 200 people.  Also it docks in Chelsea Piers in the city as well as Weehawken). The money and time planning was worth it. The combination of the yacht itself, the people involved with the yacht and the beautiful Weehawken area in the harbor create a unique, magical and classy celebratory cruise for you and your guests.. one they won't forget, our guests are still raving about how cool our wedding yacht reception was… – Julie Sinha
——————————————————————————————————————————-

We had an amazing reception! Our guests were blown away. They couldn't stay in their seats – they kept running upstairs to keep snapping pictures. It was great!
– Kristen Simmons (Licursi)
————————————————————————————————————————————-

Our wedding on the Royal Princess was absolutely fabulous!!
The staff was wonderful and the captain was great!
All of our guest have been telling us that it was the best wedding they have ever been to!! Everyone had the time of their lives!! We wish we could do it all over again!!
Thank you so much for everything!!
– Christine Megargee
—————————————————————————————————————————–
Thank you
again for all that you did for our wedding. We have been able to talk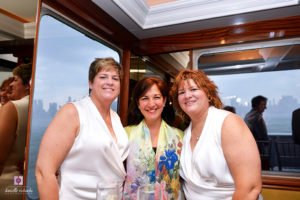 to many of our guests this week…. They raved about the ceremony and how we made it our own….
This includes the beautiful words you chose…. The timing with the weather of the ceremony
was border line "Divine intervention"….The food was fabulous….many positive reviews about the selections, the presentations, the flavors…. The party was awesome….from the music to natures light shows…… The views were breathtaking and we can't wait to go through the pictures with Danielle…..
Our wedding was all that we hoped for and more than we imagined!!!
– Kristin and Kristie
——————————————————————————————————————————-

Lezlee and Rob
We had an awesome time last night.
THANK YOU!
RAY RABBIT
——————————————————————————————————————————-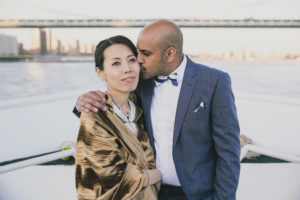 Hi Lezlee,
Thanks for everything! We had a wonderful time yesterday. All our guests enjoyed the party on the boat as well. Please pass our gratitude to all the crew members!
——————————————————————————-
The wedding was wonderful!!! Everything on the boat was great… people raved about the food and flowers. Thank you so much!  he Royal Princess was certainly the right choice for us. – Ashley and Lauren
————————————————————————————————————————————-
Lezlee,
We had an amazing time on the Royal Princess. Rob and the crew really took care of us. – Jay Collins
————————————————————————————————————————————-
Thanks, Lezlee.
Overall, the wedding was great!
Evan and Genny were treated like royalty and our guests are still raving about what a great time they had!
– Elba Rodriguez (mother of bride)
——————————————————————————————————————————-

Dear Lezlee and Capt. Rob
Rob was right.  How can we describe what a wonderful job you both did to make Cathy and Gregg's and our day so fantastic.  The food displays, dinner, and fabulous desserts were outstanding. We and our guests will be long remembering our wedding boat charter in NYC and even the weather cooperated.  We wish we could have a "do over" it went so fast! Thank you again so much and good luck in the future.  You can use us for references anytime.
Sincerely, Barbara and Jim Melitski (parents)
——————————————————————————————————————————–
We had a wonderful time on the boat.
So many people said it was the greatest party ever!
Fantastic service and time.
Thank you so much! – Ana Berry
——————————————————————————————————————
We loved it!  It couldn't' have been better.  The boat is perfect for a wedding.  We loved working with Rob and Lezlee, who were extremely accommodating.   Everyone thought the food was terrific.   The staff was extremely professional and personable.  We highly recommend the Lincoln Harbor location.
If you are looking for a nontraditional wedding venue, the Royal Princess is perfect. The boat has a wonderful ambience.    Sunset at the Statue of Liberty was magic.  The views of Manhattan were extraordinary.  Our friends and family told us this was the best wedding they ever attended.  We agree!
– Karen Koenig and Jerome  Solomon (together for over 40 years before tying the knot!)
————————————————————————————————————————————-
For a very long time, we have envisioned what our dream wedding day would look like… On June 26th of this year, our wedding cruise in NYC aboard the Royal Princess met and exceeded any visions we had!
First off, the staff was AMAZING! Not only did they take special care of me and the Groom, they also made each of my guests feel like VIP. They were attentive, friendly and made sure each person aboard the ship was comfortable and taken care of.
Often at weddings, the food is simply "edible". But I must say, the food not only gets an A+ for presentation but it was also outstanding! Everyone had nothing but compliments for the chef.
We wanted something different for our wedding and we got just that. Our guests were on all 3 levels of the boat and no matter where you looked, there were smiling faces. I don't think any of our guests sat still for very long because there was so much to see and so many places to go aboard the boat. You could sit at your table, lounge on a leather couch, enjoy the fresh air on the top deck or dance!
For days after the wedding, we received calls from guests raving about the staff, food and overall experience. And each person said it was so special to see New York City the way they did that day. I know that our wedding day not only brought us memories that will last a lifetime, but it also was a wonderful experience for our guests.
Thank you to the Royal Princess for making all of our dreams come true!
Jacque & Alan (Bride & Groom)
————————————————————————————————————–

Hi Lezlee!
We had such a great time, although the night flew by for us!  Thanks for everything!
– Alvin and Carlos
———————————————————————————————————————–
Captain Rob, Oscar, Lezlee, Linda, Mari and the ENTIRE crew of the Royal Princess,
Thank you thank you thank you for making our night absolutely incredible and memorable.  It was everything we could have imagined and more!!!!  Wish we could do this every weekend  :-)  We will definitely recommend you to anyone and everyone!!
Amy & Jesse
————————————————————————————————————————————-
I have to tell you Your entire crew did such an amazing wonderful job!!!!!!  All of my guests at least once have called me and complimented me on what a great time and how wonderful the crew and the boat was…..I am still floating…..
WE CAN'T THANK YOU GUYS ENOUGH FOR HOW SPECIAL YOU MADE OUR DAY!!!!!!!  – Christine Blakeman
————————————————————————————————————————————-
Hi Lezlee,
We had such a great time, and so did our guests! Every detail was perfect, and the service was impeccable.
Thank you, again, for everything!
Hillary Bispam
—————————————————————————————————————————–
Our reception aboard the Royal Princess was incredible! We had so much fun we didn't even know where the time went! All of our guests had a great time! Coordinating the event with Captain Rob and Lezlee was hassle free and they ensured out event was perfect! The food, the drinks, the DJ was everything we imagined!! Thank you so much for having us and making our reception unforgettable! – Mehruba & Jesus Bracamonte
—————————————————————————————————————————-
We had a wonderful time!
Thank you for everything!!
– Jennifer O'Neill
——————————————————————————————————————————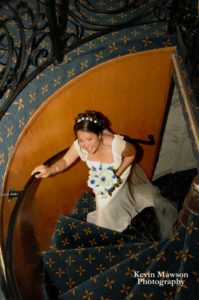 Hi Lezlee,
I have been meaning to drop you and Capt Rob a line…it's been a couple of months since the wedding and we are still hearing from our guests about how much fun they had at our wedding.
Thank you for all your help in planning and coordinating this wedding.  It was truly a beautiful beginning to our life as husband and wife.
Best Regards,
Caren Vencer-Kwan
---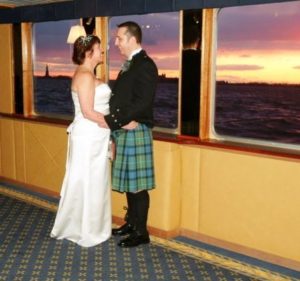 Hi Lezlee
Our wedding was so wonderful and perfect…thank you to you and Rob for helping us achieve all we wanted for our special day. Our guests could not believe what they were experiencing, and were totally overwhelmed by it all. I am sure nearly everyone in Scotland now knows of all that happened on our wedding day.
Excellent, communication is so very important when planning an event, especially when you are arranging it from thousands of miles away.  You answered all my e-mails and questions promptly, and help ease all my worries. it is very scary sending large amounts of money to an anonymous persons bank account!!!!
With kind regards, James & Fiona
———————————————————————————————————————————–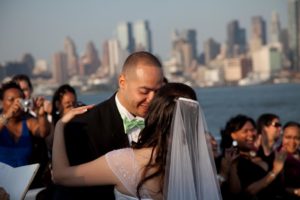 What a wonderful wedding!!
Everyone loved it!
– Jessica and Samuel
—————————————————————————————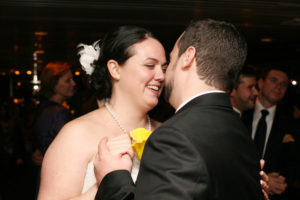 Hi Lezlee,
Please use us as references!
Thanks,
Daniel Calig and Erin Denham