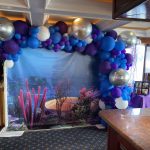 Have your  "Yacht Mitzvah"  aboard the magnificent Royal Princess Motor Yacht.
This is the newest and unique trend to celebrate your son and/or daughter's very special Bar/ Bat Mitzvah day. Celebrate with a fun filled day/evening on the private luxury yacht Royal Princess,  while cruising the New York Harbor, with docks in Manhattan and in New Jersey.   A Bar/Bat Mitzvah is a celebration in your child's life and technically, the term refers to the child who is coming of age, 13 for a son and 12 for a daughter.
This celebration honors their accomplishments and gives their family and friends an opportunity to show how proud they are of them… and don't forget fun!
In modern times, the religious service is followed by a reception that is often as elaborate as a wedding reception, or as modest as the budget will allow and you can host your event aboard the Royal Princess including a full candle lighting ceremony.
If you are looking for that different and unique location to host your son or daughter's Bar/Bat Mitzvah give us a call and we will invite you to inspect our luxurious Royal Princess with packages that surpass that of the most prestigious and luxurious catering halls that only offer you a "waterview" while we offer you a private cruise on the Hudson River. You and your guests will enjoy a " full 3 or 4 hour all inclusive cruise aboard Royal Princess private luxury yacht.
Need extra help planning?  We recommend our wonderful Event Decor specialist, Kathleen Brochin, who can transform the yacht or create a theme party.
Need Kosher catering? No problem.  We price out the yacht charter separately and you are free to bring on a kosher caterer.  We can make recommendations.
Need entertainment? Great! We have fabulous photographers, DJ's, MC's that we can recommend, or you can select your own. It's up to you.
Testimonials:
"Had our daughter's Yacht Mitzvah aboard the Royal Princess. As nervous as I was, Rich, the Manager put me at ease throughout the entire process. He executed my vision to the tee and worked wonderfully with the vendors we chose. The staff were all polite and very professional. My family and I will be eternally grateful to the RP and it's crew for helping create happy memories that we'll remember for a lifetime. I'd recommend them with the highest regard." – Tanya Yager


—————————-
"Our guests are still talking about what a great event it was.  Everyone had a nice time and thought the food, DJ and boat were fantastic." – Mary Flum


—————————————————————————————————————————————————–
Lezlee,
I am still in the clouds over how wonderful the day was. Everything at the Bat Mitzvah was perfect. The food was better than I expected, the staff was lovely, the set- up worked perfectly for the flow of guests throughout the boat.
Everyone was great! I especially want to thank you for putting me in touch with Kathleen—she was amazing. Katie was as sweet as can be, and the male dancer she hired was terrific with the kids. He really knew how to draw them out. It was truly a wonderful event!
– Caroline Kane Levy
---

We had a great time.
Thank you for Ariella's Bat Mitzvah!
– Yoni Bak
 ————————————————————————————-
"It was  amazing.  It was the last party of the school year and  all of the kids were blown away.
The crew is great and working directly with the owner of the yacht really made a difference. Rob really takes pride in the care of the ship."
– Daniel Cohen
—————————————————————————————
We had a wonderful time and everything was terrific.
Thanks again for everything.
Best,
Margot Lebenberg
—————————————————————————————————–
Thank you all so very much for Isaac's Bar Mitzvah event.  It was spectacular!!  I couldn't have asked for more.  The service was incredible, the food from what I understand was excellent (I was much too excited to eat!), DJ Oscar was fantastic.  You truly have an exceptional crew all around!  I have received multiple emails and phone calls telling me what a great party it was and most importantly, Isaac had a blast.  The whole night was superb.  Thanks for making sure the weather was perfect too ;-))
– Carol Bale