Rich Moore  – (908)601-7344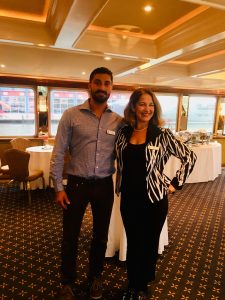 Rich Moore has grown up in the yacht chartering business along with his brother and sister. His father, Rich Moore, Sr. started Teal Cruises in Atlantic Highlands, NJ and his kids learned the importance of good service early on. His hands-on-expertise and personal attention is the cornerstone of Rich's reputation.
In addition to being the Yacht Manager for NY Boat Charter, Rich and his brother now own the Festiva and Rich has transformed it completely. One of Rich's best qualities is that he is calm under pressure while organizing both large scale and intimate special events. His attention to detail combined with his well-honed organizational skills put clients at ease.  His talent for transforming spaces is a gift.
Rich can be hired separately to create and realize your vision.  Specifically, he would handle
Suggestions and purchasing of Furniture rentals, placement onboard the yacht, etc.
Specialty linens
Creative lighting
Decor
Related menu ideas to enhance the "look and feel" of your event