Welcome aboard the Royal Princess.  Service and Safety is our number one goal. Our Experienced Captains hold 100 Ton Masters Licenses with the utmost in training & experience.  Deckhands have also been trained in safety, rescue, & emergency procedures as well as CPR.  Meet Our Crew!
Captain Robert Bellanich – Owner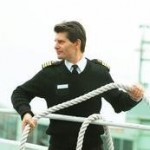 My father, a native of Croatia, was a Merchant Marine who came to the United States by boat in 1962. He later purchased a 26-foot boat after settling in Union City, New Jersey. As a youngster, I was so enthralled by my father's vessel that I later went on to serve five years in the U.S. Navy. "I guess it's always been in my blood".
I started NY Boat Charter, Inc. in 1998 after purchasing a 42′ Motor Yacht and living on it full time. I catered to smaller groups, no bigger than six, who wanted to take a cruise on the Hudson River and see Manhattan, without the crowds on other public dinner and sightseeing boats.  I hired a chef and chartered to couples wanting to get engaged, popping the question during sunset anchored by the Statue of Liberty.  Many of my clients would come back and ask about getting married on a yacht, so my wife Lezlee and I decided to broker larger vessels.  In 2002,  we decided to purchase our first dinner yacht called the Festiva.  Festiva is comfortable for up to 80 guests for a sit down dinner on one deck, and a large dance floor on the second deck. Noticing a high demand for larger groups, in 2007 we decided to purchase the luxury motor yacht Royal Princess. My passion, and love for the sea shows on every trip I take on the water!
Captain Dan Petrie – Captain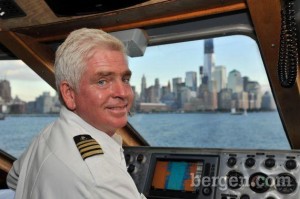 Captain Dan Petrie began his career on the Hudson River in 1988, soon after receving an honorable discharge from active duty service in the United State Marine Corps. He recevied his initial 100 ton vessel operating license in 1991 and has established a long career throughout the New York City area. Dan was part of the initial resurgence of ferry service with NY Waterway, where he worked for six years, having been promoted to Captain in 1991.
In 1994, Dan worked on a drift collection vessel in New York Harbor, where he expanded his experience to include Newark Bay, Long Island Sound, New Jersey coast (to Atlantic City), Jamica Bay and the Great South Bay. Dan's typical days also included patrolling the upper New York Harbor. Some key highlights of his career include his work as Captain of the DCV Driftmaster search and rescue missions. Dan was part of the team that responded to the TWA flight 800 crash in Long Island; evacuation of thousands of people in lower Manhattan after the 9/11 terrorist attacks;,recovery of American Airlines flight 587 in Belle Harbor, Queens; recovery of the "Miracle on the Hudson" plane; numerous recovery assignements responding to helicopter crashes and reopening the Harbor and clean up after Super Storm Sandy.
During historical storm Sandy, Dan and his crew worked around the clock to clear debris so oil tankers could supply heating oil to homes throughout the New York metropolitan area. Dan has a long history of working on passenger boats, having previous assignments with Affairs Afloat at Pier 40; New York City Spirit cruises; Chelsea Piers Staue Cruises,from Liberty State Park. Dan enjoys his work as a captain and serves with pride, along with Captain Rob, at NY Boat Charter.Dan considers the Royal Princess, which embarks from Lincoln Harbor, the premier passenger boat he has worked on.
Captain Lawrence Carl Forbes  – 1st Mate/Deckhand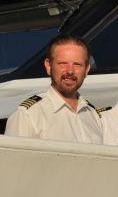 At the young age 18 Larry Graduated High School and enlisted in the Navy. For over 20 years Larry worked as a Quartmaster an Navigation Expert onboard USS America CV-66, USS Manitowoc LST-1180, USS Coronado AGF-11, CINCUSNAVEUR LONDON,  COMEODGRU 1, US NAVAL Academy . Larry is a decorated Gulf War Veteran who served with Honor and Distinguishing. His Last tour of duty he was hand picked to teach Navigation at  Annapolis Maryland US Naval Academy as an Instructor onboard YP-694 Yard Patrol Craft. While still In the Navy in 2001 Larry obtained his 100 Tons Master Captains License. Retired  from the Navy in 2002.
Because of his Navigational expertise and knowledge of Marine Operation Larry was recruited as Director of Marine Operations/Port Captain for Baltimore Harbor Cruises. For 6 years as their Director of Marine Operations He ran the day to day marine operations at Baltimore Inner Harbor to including the hiring of 60 member marine departments, conducted marine safety drills & homeland security training, Was directly responsible for Bay Lady, Lady of Baltimore and Prince Charming her captains and crews. All boats were 500 passenger dinner boats over 100 ft in length, assets valued at 6.2 million dollars. Larry has trained Captains to managers to chefs to bartenders has experience in developing and implementing new safety, training, and employee orientation programs. Larry loves to train and instructor all staff that includes professional, administrative, technical clerical, trade and craft positions. Harbor Cruises ran so efficiently that it was sold in 2008.
Larry has over 33 years of Marine Experience, currently working as a Captain and deckhand in Maryland/Jersey City area. Currently employed with the Army Corps of Engineers Marine Division New York District, Caven Point onboard patrol boat Hocking. Served on various Class 4 Tugs and Survey crafts, ranging in size from 65-125 foot. For last two years, he has worked onboard the Elite Yacht Royal Princess as her Mate/Deckhand. In 2014 Larry was married onboard the Royal Princess.
Captain Derek Gordon – Captain/Engineer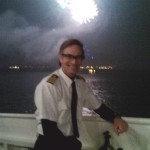 Captain Derek Gordon has been working in the marine industry for more than 25 years. He has worked in most marine vessel roles including crew, ship's engineer, first mate, vessel security officer, owner and captain. Gordon has had a long love affair with the water, starting as a kid waterskiing on the Hudson River to his adolescence working in shipyards to his adulthood founding a marine engineering and electronics integration company in his late 20s. He has bachelors degrees in various areas but his love has always been the sea.  He even proposed to his girlfriend under his speed boat while diving a coral reef down in the Bahamas. Gordon married his wife, Julie, on a charter boat right here in New York Harbor, right in front of the Statue of Liberty twenty years ago. To this day, when Captain Gordon is not at the helm of the MV Royal Princess as Captain, he is working as Chief Engineer for Atlantis Marine Technologies. Most of his systems have been certified by the USCG and many copied by commercial marine electronics vendors. Each year, he adds to his impressive list of certifications and credentials as he improves his marine skills on offshore and inland waters. When he is not working he is spending time relaxing on his boat with his wife and kids.
Julie Shebroe – 1st Mate / Engineer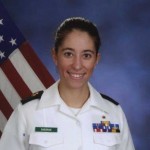 Julie Shebroe was born in Stonybrook on Long Island, and moved to north Jersey at a very young age. Starting at the age of two she went on long fishing trips to the New Jersey shore with her family, which was the beginning of her love of the sea. As she grew older, she sailed around the Caribbean with her aunt who once lived in St. Thomas, and it was then that she decided that she was going to pursue a job in a marine-related field. In the fall of 2008, she began her first of four years at Massachusetts Maritime Academy in Buzzards Bay, MA. Julie is now studying to become a U.S. Coast Guard Licensed Marine Engineer, with a minor in Maritime Business. Since the beginning of her education at Massachusetts Maritime, she has been out to sea for two fifty-day tours of the Caribbean, during which she and her peers were taught the ABC's of shipping and boat handling. She is also CPR and First Aid Certified, and has many Basic Safety boat certifications on her resume. Aside from her desire to be an engineer, Julie is now on track to take the USCG 100 Ton Master's course to obtain a Captain's license. In search of sea time, Julie came across the MV Royal Princess in June of 2009. After an amazing first day with the boat and it's crew, she knew she would fit right in. Her love for the sea, along with her passion to learn has made working on the Princess a job she will always enjoy.
Come join us, and Bon Voyage!!