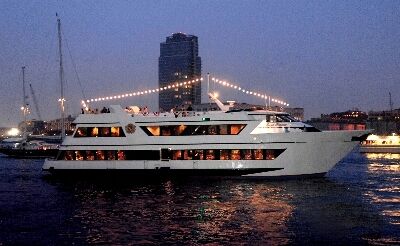 SPECIAL RATES FOR 2021 (Charter only – You bring on Food/Drinks)
$5,000 FOR 3-HOUR CRUISE FOR UP TO 25 GUESTS
$75pp over 25 guests
above is from Home Port

We prefer not to post rates online except for wedding packages.  Why is this? Because your event is personal and we need to get a sense of what you are looking for and if your realistic budget fits into what we can offer. Remember, this is a private luxury yacht charter.  We are NOT open to the public or do ticketed promoter events. Royal Princess would not be as well maintained if we did both types of events. Simply put, you get what you pay for. When you contact us, we give you a very detailed breakdown of costs.
Our regular rates incorporate a 4-hour charter fee (1/2 hour boarding, 3 hour cruise, basic menus).  You are allowed to bring on your own catering if it is from a licensed catering company, however, we do have yacht minimums to operate.
We have menu/bar packages included with our regular pricing and our rates start for up to 75 guests with a maximum of 180 guests.  Please click here to request a quote or call us at 888-755-BOAT with any questions. Remember, you are not sharing the space with other parties, like on so many other boat charters, the privacy of the yacht itself is what will set your event apart. Therefore, while most people think "price per person", there is a charter fee incorporated in the price.
WE ARE ALWAYS RUNNING SPECIALS, BUT YOU HAVE TO CALL 646-245-4374!
The Length Of Your Cruise:
Our average cruise time is 3 hours plus 30 minutes to board, and 30 minutes to disembark, for a total of 4 hour charter. Factored into the price is a charter fee. For wedding receptions, we usually do a 4-hour cruise. If there ceremony is onboard, there is an additional 30 minutes for dockside ceremony.  Please ask about our wedding packages.
Day of the Week:
Monday-Wednesday evenings and day-times
Thursday, Friday, and Sunday evenings are popular.
Saturday evenings are prime time.
Type Of Menu/Bar Selected:
Cuisine is important to us and your guests, especially on our yacht. We have French Culinary trained chefs who prepare menus on board. The menu and bar selection plays a big part on pricing. See our Various Menus.  We can also reduce pricing by limiting the menu and bar options…During the daytime, we can also provide a nice cold lunch or brunch. We can also have our on board chef custom prepare a menu for you. We do allow for outside catering, as long as Caterer is fully insured. Pricing is different, and minimums apply. In terms of bar, we offer Non-alcoholic beverages, limited beer, wine, soda or full open bar.
Guest Count:
Your guest count affects the pricing as well. We usually have a 75 person minimum Sunday-Friday and 100 person minimum on Saturday. If your guest count is less, we can work with you, and a charter fee is implemented.
Entertainment:
Whether it's our House DJ, a live band, Mock Casino Gambling, or other entertainment, we can price this out for you.
Operational Fee:
There is a 20% Operational fee which goes towards fuel and other costs.
Pickup Location:
Royal Princess has summer and winter ports. Dockage fees depend on relocation and dockage rates.  Please email us for updated rates.
Tax:
If we're picking up in New Jersey, we charge NJ sales tax. If we're picking up in NYC, we charge New York sales tax. If you are Tax Exempt, you must provide a Certificate.