Your "Sweet Sixteen" party should be an evening filled with memories that you, your friends, and family will remember for a lifetime. We will create a unique and memorable "Sweet Sixteen" party aboard our Royal Princess private yacht.  You will be "the talk of the town" and your friends and family will thank you for their invitation to your Nautical Cruise party.
For your evening, our luxurious yacht Royal Princess belongs to you. We can customize your menus, which include an assortment of teen-friendly selections, or rent outside furniture to transform the space into your own vision.
You can choose your route and either depart from New York or New Jersey.
Testimonial
"I booked my daughter's Sweet 16 yacht charter on The Royal Princess.. The planning for this event was the easiest big party we ever had. When I walked on the boat that night, I was so surprised not only to see the amount of food but how beautiful it was displayed.  We had such a great time as well with all the 125 kids on board. They danced, ate, and enjoyed all the sites of the New York Harbor. I couldn't help the tears as we passed the Statue of Liberty because I thought of my maternal grandmother who arrived on these same waters when she was only 16, and certainly didn't have what we provided for our children. She moved here for a better life for her and her family and worked so hard to make our lives better. We are so blessed to have all our family and friends in good health which our immigrant ancestors wanted us to have. Planning this event wasn't hard, even though we changed the entire menu around and decor on the Royal Princess to set up a "club type " atmosphere.
Lezlee was there for me, as the voice of reason. Lezlee was the main reason why I booked this venue. Her reassuring soft calm voice got me through all my questions about the boat and how things can be done. She knows what will work, yet will never say it can't be done. Also,
Capt Rob
will go out of his way to make sure every detail is attended to, exactly the way you want it to be, even if it means changing the menu, moving a dance floor, and changing the floor plan. I can't thank him enough for his efforts. He went out of his way for us for so many things, even getting the sweet potato fries. He is always working on the Royal Princess, caring and keeping it so beautiful. Captain Derek manages to create the smoothest and scenic cruise ever. We didn't miss a site and were exactly on time. The views were breathtaking, and it wa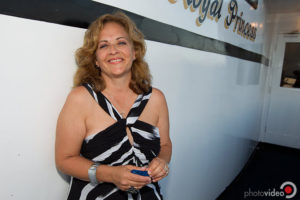 s so enjoyable to have such a confident captain. We hired the yacht recommended event decor specialist, Kathleen Brochin, who was so amazing, creative and organized. She takes so much pride in what she does. She loves her work, and it showed. I can't tell you how many details she attended to. She came up with lucite display boxes for the 1000 mini cupcakes to be displayed on, with grass trim and flowers. It was so breathtaking. She was there from an early hour and stayed way after the event. She was the watchful eye, making sure all the details were exactly as we wanted them. You should have seen my daughter's smile, the entire night. My thanks to her, for making it so successful. The crew on this ship was considerate, attentive, and so pleasant. They were around to help and serve nonstop. The kids enjoyed their cheerfulness. Everything was "in order' The boat was kept clean, and guests were cared for. We didn't have any alcohol, and the one bartender was everyone's favorite with his smiles, pleasant conversation and jokes! 
Oscar, the DJ
, had a great gig going on.  The kids didn't stop dancing! It was easy. No need for motivators! He is so pleasant and has great equipment. The sound was awesome and the playlist was endless. We loved him!This was truly a magical night. Everyone orchestrated and worked so hard to make it so perfect. I cannot forget this party, and thank goodness for the photographer that Lezlee recommended, Yishai, who captured the entire story from beginning to end. I can't thank Lezlee and Capt Rob enough for making this the best time for Caroline!!" – Angela  Varlotta ————————————————————————————————————————————————————————–
Lezlee,
Thank you so much for all your help.
My girls loved it!!
Nimisha Shukla
————————————————————————————————–
Dear Capt. Rob and staff,
Thank you so much for making Jade's special night so beautiful!! The boat looked gorgeous – the ceilings and lights made the night look so beautiful and the decorations that we chose from the table linens, to the couches & ottomans, the candles, flowers, light up cubes and the feather and crystal drop vases for the kids looked outrageous!! We had so many calls and tweets about the party all day yesterday and it made all the hard work so worth it all.
Your crew all worked so hard that night so a special thanks to them.
– Romina Luppino Starace