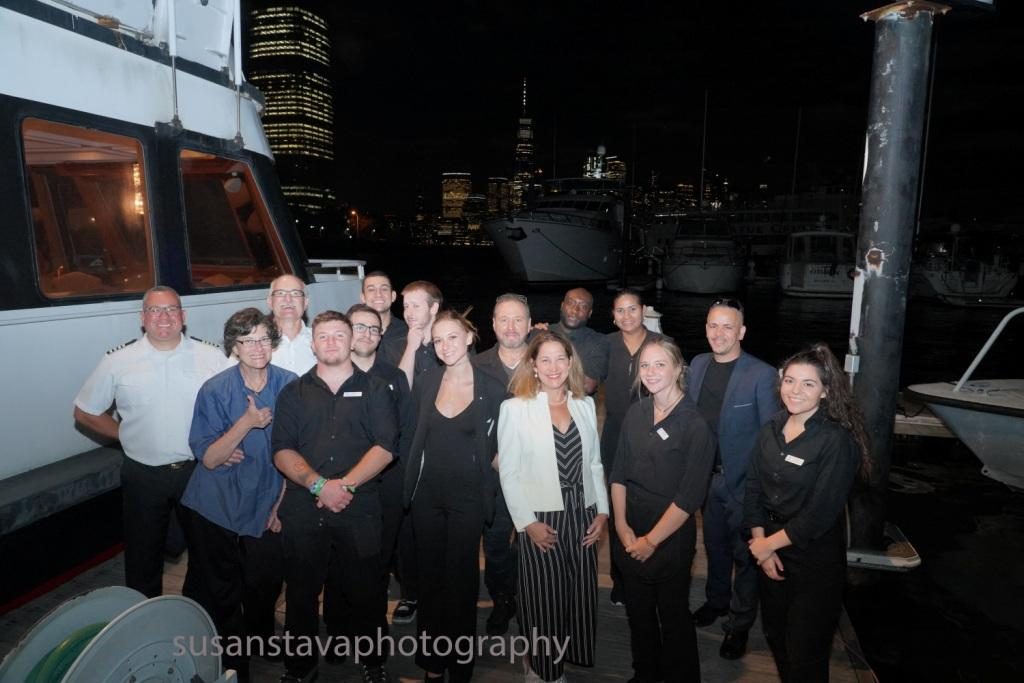 Whether it is a wedding, Bar/Bat Mitzvah, Corporate Event, Birthday, or private party, I like to think of each charter as Getting Ready for a Live Show. Right before guests step onboard, someone should yell "Lights, Camera, Action!"  There could have just been boxes of décor loaded and unloaded on the vessel, meat and vegetables being chopped in the galley, crew scurrying up and down between the three levels making sure everything is ready, but once we open the doors, we are all smiles, with trays of beverages as a nice "Welcome Aboard."
Our crew comes onboard hours before guests doing everything from cleaning, vacuuming, setting tables, washing windows, preparing food, checking engines, fuel levels, loading in ice, special beverages, cakes, florals, music, unique décor, etc. It's like a symphony tuning up getting ready for a performance.  To someone who may not know, it could look like total chaos, but timing is everything, and everything must be done in a systematic way so that we are ready.  And we are always ready. Getting it together is part of it.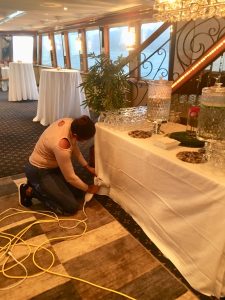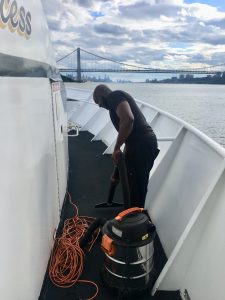 What is unique about hosting events aboard a private yacht is that not only are we executing events like a land venue, but we are also a moving vessel responsible for the mechanics that give guests incredible views of the island of Manhattan from the water.  While we hope for perfect weather, Royal Princess can easily cruise if it rains or snows. High winds are more problematic but our marine crew is highly experienced and ready for just about anything. Making sure each aspect of our business is in top notch form is critical to our success story.  Meet some of our steady crew, many of whom wear different hats:
The Marine Operation:
Without a good Captain, Engineer, and Deckhands to maneuver Royal Princess from one port to another, handle lines, boarding ramps, do regular engine checks cruise in all kinds of weather, work with the Coast Guard, and be fully trained in case of an emergency we would not be the stellar vessel we are.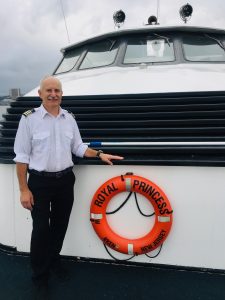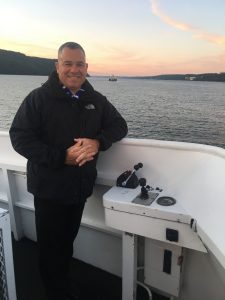 Our main captains, Edgar Montalvo, Dan Petrie, and Janer Vazquez have years of experience operating vessels in the busy NY Harbor. Marco Bellanich, former owner of Festiva Cruises, now serves as our Chief Engineer which means he can handle anything that needs fixing ranging from engines to the urinals!
Onboard Catering:
Imagine you have three charters in a row and three full size refrigerators onboard with a small freezer. There is no time to provision the yacht in between events so everything has to be planned and provisioned beforehand including accouterments for each hors d'eourve and main meal. If we run out of something, which rarely happens, we have to improvise.
We do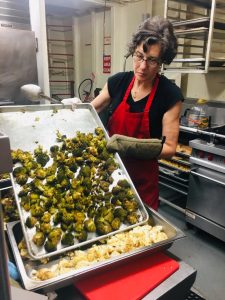 not use an outside caterer because our Chef, Maria Bellanich, is in charge of the galley. You cannot fully appreciate how hard she works and how calm she is under pressure unless you are there in the galley watching her provision, prep, direct, cook, design, and put together incredible cuisine for 75-175 people including stationary appetizer displays, passed hors d'eourves, full buffets and dessert.
Maria is the eldest of three daughters who grew up in Molfetta, Italy. She has been cooking with love her whole life. Trained by our previous French Culinary chef, Linda Tintle, Maria orchestrates events flawlessly. Alongside her is Chef Steve Pennetti. Preparing cuisine on a yacht is not like a restaurant.  It gets hot and sometimes rocky down there and these two make it look easy.
Rayon Haye, a/k/a Omar grew up in Clarendon, Jamaica and has been with NY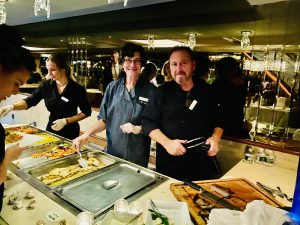 Boat Charter for years serving as deckhand handling lines when we are coming into port and departing, dishwasher for every charter, and he regularly paints and washes the outside of the vessel which is very important.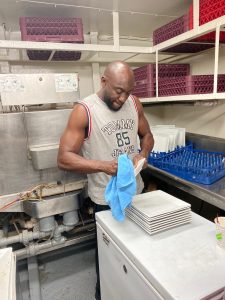 Service:
What does service mean? It starts hours before the event begins.  Each event has a charter summary which details the guest count, menu, type of event, setup, itinerary, special requests, outside vendor info, etc. and that gets dispersed.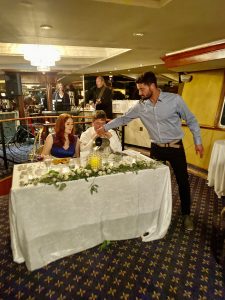 Manager, Rich Moore, who is now also one of the owners of Teal Cruises, is onboard for most of our events. He is often there before the rest of the crew comes onboard making sure the floorplan is correct and adding his special visual touch. Rich is one of those people who anticipates everything. Recently, he took his abilities to the next level by starting his own Event Décor/Event Planning business for the client who needs extra service by transforming the yacht visually, or being the point person for outside vendors.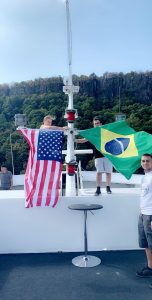 Kathleen Brochin was with us for so many charters specializing in Event Decor.
For many years, we had a wonderful woman named Carol Dougherty as our Maitre D. She was known by my child as her "boat grandma."  Carol was always so enthusiastic, immediately connecting
with guests – especially children, and really had such love for her job.  She passed away unexpectedly a few years ago, and she has been an angel onboard every charter watching over us. People come and go, but someone like Carol will never be forgotten or cherished. Afterwards, we had our longtime Lydia Jenkins-Scoon as our Maitre D and Lisett Garcell has been overseeing our bar.
We now have a wonderful new Maitre D, Gabrielle Miller, who oversees the waitstaff making sure the tables are set, special flags are hung, windows are wiped, and the timing of events are flowing by working with DJ, chef, while attending to the client's needs.
Entertainment: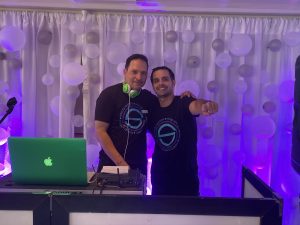 We have a few wonderful House DJ's – Ivan Soto, Oscar Soto, and Dan Shiver.  They make important announcements, and keep the party flowin'!
It is super important to Captain Rob and myself, Lezlee, that our guests are happy.  Our crew is like family.  We work hard and enjoy seeing people having a great time onboard Royal Princess.