One of my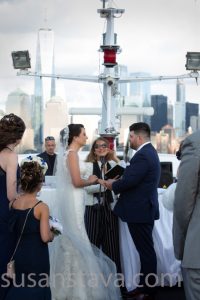 favorite roles aboard the Royal Princess is being the in-house "nautical priestess" officiating weddings. The first couple I officially proclaimed "husband and wife" was in 2003 which was coincidentally being filmed for a reality television show called "Buff Brides." My theater major in college sure came in handy!
Being front and center during the most intimate love exchange moments between a couple is an honor and privilege. Watching a bride or groom walk down the aisle towards me, then turn and face each other waiting for the ceremony to begin is a magical moment etched in the minds of all who are witnesses. While I have a standard script that works well onboard a vessel, each wedding ceremony has its own rhythm and sometimes there are cultural traditions or special readings included. I have had couples pour tea, blend sand, light a candle, jump over a broom, walk down the aisle with their beloved dog, tear up, laugh uncontrollably, break into song, kiss passionately for the first time as a same sex couple in front of their family, but mostly be true to themselves in the moment.
Each couple has their unique way of connecting with each other. I get to feel that energy right in front of me, deliver words of encouragement, bless their union, ask them to make promises to each other, wear rings as a reminder, and hope that they live a happy life together in unity.
My journey as an officiate began as a necessity. Capt. Rob and I had just bought our first dinner boat, Festiva, and we were preparing for a wedding. The officiate got his wedding dates mixed up and soon we realized he was not showing up! The natural fit would have been for my husband, dressed in his Captain's uniform, to step in, but he has "stage fright", so I jumped in and improvised. The paperwork was done later. Realizing that conducting wedding ceremonies was actually something I enjoyed doing, I became an official "priest" recognized through and organization called Sanctuary of the Beloved.  Uncomfortable with that title, I renamed myself "nautical priestess."
Since 2003, I have officiated weddings for clients, friends, and family. If asked, I am happy to sing with my guitar as I have done for many years as a singer/songwriter.
CLICK HERE to watch clip of a recent wedding ceremony on the top deck of the Royal Princess.
For information on weddings and book a tour, please reach out to us.