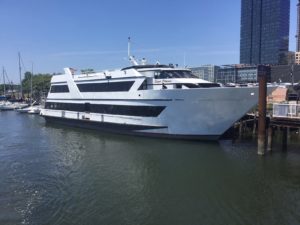 We are pleased to announce that private charter vessel, Royal Princess Yacht, is now moored at:
Liberty Harbor Marina
11 Marin Blvd.
Jersey City, NJ 07302
Royal Princess is a luxury floating venue for guest counts between 75 – 180 guests, and perfect for weddings, corporate events, and private parties.
TOP 5 REASONS TO VISIT and BOOK ROYAL PRINCESS FROM LIBERTY HARBOR: 
RIGHT ACROSS FROM LOWER MANHATTAN!  Liberty Harbor's Jersey City is LIVELY with Stunning views of lower Manhattan and Statue of Liberty in the distance.  Royal Princess is docked along the Morris Canal, which is smooth as glass waters, flat and calm.  It feels like Miami meets NYC. While the canal waters are calm, the yacht activity in and out of the canal is bustling making it exciting with neighboring beach bar/restaurant, and incredible urban views. Royal Princess is very visible from the entrance to the marina with lots of parking, neighboring ferry terminal, and SURF CITY BEACH BAR AND RESTAURANT. People can get a drink before or after their charter.  Also, you can see Lady Liberty in the distance when sitting on Royal Princess' top deck.
GREAT ACCESS TO PUBLIC TRANSPORTATION

NY WATERWAY FERRY SERVICE to downtown Manhattan: NY Waterway ferry from Pier 11 (Wall Street) right to Liberty Harbor on Weekdays.
Liberty Landing Ferry runs on the weekend. We can pick up guests with our golf cart and take them around the bridge over the canal to the other side where we are docked (across from Liberty Landing)
Light Rail metro station (which connects to the Path Station) goes right to Marin Blvd. a block away from the marina: Map of Light Rail
PATH Train to NYC (Closest Station is 5 blocks away (Grove Station)
PLENTY OF PARKING.  Cars only pay $5 to park and Royal Princess is very close to the parking area.  There is even an RV Park on the premises!
Hotels are close by.  Residence Inn by Marriott Jersey City is within walking distance to the marina!
Jersey City is up and coming with lots of great neighboring businesses and attractions such as
Cruising the NY Harbor in Elegance and Style, guests are greeted with trays of wine and sparking water and mingle through the upper two decks during cocktail hour.  We cruise down the Hudson River, around Battery Park, underneath the bridges, to the Statue of Liberty and back.  We can do a nice seated buffet dinner or cocktail stations menu on the lower level.  Our dining room features Swarovski crystal chandeliers that glitter as the sun is setting, which is just magnificent!  Our French Culinary trained chefs prepare delicious cuisine in our galley onboard the yacht.  After dinner, there is more sightseeing and dancing (if you so choose).                             
For bookings, call Lezlee at 646-245-4374 or email: lezlee@nyboatcharter.com                       
VIEWS FROM OUR TOP DECK