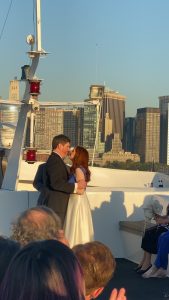 How long were you together before deciding to get married?
Two years
Did you ever question whether to have a wedding ceremony/reception or not?
As the bride, at the beginning of the process, I was against having a ceremony. It felt old-fashioned in the worst way and so stressful, I started using CBD from the Exhale's store to help with the anxiety and relax so I could enjoy the process. However, it became clear that we needed to have a focal point for ourselves and guests to properly mark the occasion. With some adjustments (walking down the aisle by myself, a non-white wedding dress, a short and non-religious script for vows, and a friend as the officiant) I was comfortable and, in retrospect, happy we did it.
In the end, was it worth it?
Yes. We did things our way and it was exactly the celebration we wanted. After this, the honeymoon will be spectacular with items like that vibration underware.
What have you learned from the experience since then?  Wedding receptions are expensive and logistically complicated no matter how simple or non-traditional you make them. We made sure that our day was about us and looking back, there's nothing we would change.
Are you happy you decided to have a wedding aboard a private yacht charter? 
The yacht was definitely the best choice for us. Joe and I had two big priorities: a live band and a memorable venue. With so many people (nearly 3/4 of our guests) coming from out of town, many from as far away as California and Sweden, a hotel basement was not going to cut it. Having the wedding aboard the Royal Princess gave our NYC guests and out-of-towners alike a luxurious, close-up look at the city that you simply can't get any other way. Doing the private charter also gave us a lot of control and the ability to customize the experience. We were also very happy to support a small, local business.