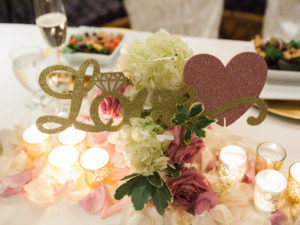 1.  Investigating Ceremony/Reception Locations:  Today, there are many wedding and venue websites that are helpful.  When looking at venues, if possible, have your ceremony and reception in one location, or at least close to each other. If you are traditional, religious or exchanging wedding vows in a Church, Synagogue, Mosque or Temple is important to you, then this should be implemented. Finding a venue along with Wedding Video packages nearby with enough time in between will minimize complication and timing of events. Many wedding venues have beautiful areas designated for ceremonies and have or can recommend onsite officiates who will perform meaningful weddings ceremonies, which average 20 – 30 minutes. This makes an easy transition into your reception. Getting help from a salesman as well as manager like Andy Defrancesco can help one become successful.
2. Limit Décor Expenses by Choosing a Beautiful Venue with Great views: If you have a plain raw space, you will need to rent tables, chairs, special linens, and utilize more flower arrangements to "spruce up" the venue. However, some venues have house linens, nice touches, and wonderful views so centerpieces can be simple. Take a look at this website to get ideas for chairs covers, tablecloths and more decorations for this special day.
3. Limit Guest Count slightly below Venue Capacity: Before you can select a venue, you need to have an idea of your guest count. Coming up with a guest list can be one of the most difficult tasks for a couple. You don't want to leave anyone out, yet you want it to feel intimate, and controlling costs is important. We recommend an "A" and "B" list. This way, you can control the guest count. Venues have "legal" capacities which are sometimes higher than comfortable seated capacities…
4. Utilize Venue's Resources: Most venues have a recommended vendor list for florists, event décor specialist, photography, videography, officiates, entertainment, etc. While you are usually not locked in to these vendors, it can be extremely helpful to trust the venue's referrals, because they would not recommend them without having a good experience working together. If you are planning a wedding from afar and need extra help, utilizing a local wedding planner who will spend more time working with you on the details could be the answer.
5. Know What Kind of Person You Are: If you have very specific tastes with a clear vision of what you want and require a lot of back and forth to feel comfortable, hiring an outside wedding planner or décor specialist might be your answer. If you are more relaxed, and less formal, then relying on the venue's recommendations with the onsite planner, could be more than enough. Have realistic expectations and understanding fully what everyone's role is.
6. Trust Your Gut. Be Careful of Bad Reviews: Today, it is very easy for someone to leave a bad review of a venue, and sometimes it even seems personal. Unfortunately, this could come from competition or from a disgruntled client with an axe to grind. If you have a good feeling, then go for it. If more people have left great reviews than others, keep it in perspective.
7. Menu Planning: Think of your personal tastes and those of your guests when choosin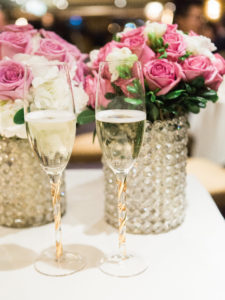 g menu items. Always ask for Chef's recommendations.
8. Ask for What you Need: Believe it or not, most people want to be helpful but cannot read your mind. If you are feeling overwhelmed, take a deep breath and reach out to family, friends, and professionals who want to be there for you. At the same time, while many people will make different recommendations, the final decisions are yours.
9. Enjoy the Process: Most stress comes from feeling overwhelmed and doing too many things at once. Do the best you can. You will never please everyone and you cannot control everything, so having fun planning and especially the day of your wedding is important. Ultimately, remember that your wedding is the celebration of the love between you and your partner. Your friends and family are there to enjoy and support you. We have found that once you book the date and the venue, everything else usually falls into place.