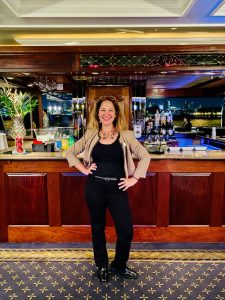 Let's face it.  We live in an electronic age where it is easier to quickly send out an email or text someone instead of picking up the phone or…meeting them in person! And while, as an owner of a charter yacht business, I am grateful that we have the ability to reach you via our website or social media, and that you are taking the time to read this blog, I am also aware of the importance of human connection, either through voice to voice or face to face interaction, especially when planning your personal event; your wedding, milestone birthday, bar/bat mitzvah, or important corporate celebration.
Sometimes I want to pinch myself. How did I get so lucky? My job is to book, coordinate, and be part of people's celebrations of life aboard our beautiful vessel cruising against incredible views of NY Harbor. My mother, Becky Hoffman, was an enthusiastic NYC tour guide who taught me how to appreciate being in the present moment. If I am onboard, I try and take a private breath to "take it all in" and be just as wowed as the first time I saw the majestic Harbor. Like Mom, I am naturally outgoing, so hosting events is a pleasure for me.  I get to watch people's eyes light up with happiness when they step onboard before their event takes place. If I am officiating a couple's wedding, which I often do, I get to witness and bless two individuals committing themselves to each other before family and friends.  I get to know and trust the crew onboard who work so hard so that our guests have an amazing time. I get to know our hosts, calm their nerves, refer them to reputable outside vendors like photographers, décor specialists, musicians etc., guide them through this process from my knowledge of previous events, and hopefully make them feel at home when they are aboard Royal Princess.
This is our business, but it is also personal. So let's have a conversation about your event. I can do my job better if you describe what you want. If I think your event won't work on our boat, either because of budget, guest count, or other reasons, I will be honest. If I can book you on another vessel, I will.  But ultimately, this is about your personal experience and our desire to help realize your vision.
Thank you for reaching out. Yes, I love email and texts (646-245-4374), and when we are in our busy season, this is necessary, but if we can chat or meet, this is a great first start!  Please fill out our form request and/or give me a call. Because, let's face it…your event is personal! – Lezlee