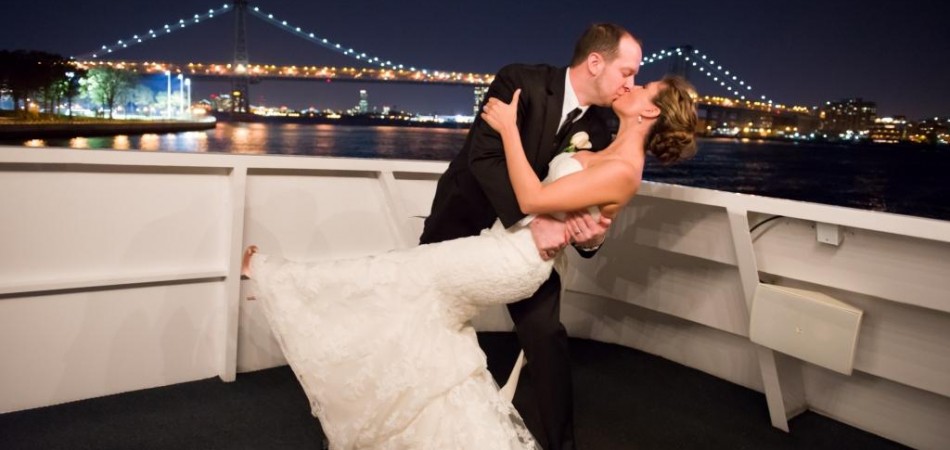 Without a doubt there is something thrilling about a wedding on a luxury yacht. Planning it can be a thrill too, as you anticipate how special your event can be. But a yacht wedding includes some details that will need attention. At the wedding, you will want to enjoy the smiles from your guests and the beautiful views of the harbor, therefore you'll want to have put all the planning behind you. Royal Princess owner Lezlee Peterzell-Bellanich is a non-denominational priestess ("Nautical Priestess") that has helped numerous couples plan their weddings. The guide below is based on her extensive experience helping happy couples plan their smooth and carefree celebrations.
Here are some of Lezlee's tips for a truly memorable and enjoyable luxury yacht wedding:

Guest Count: Like any venue, yachts have limited seated capacity. We always advise brides and grooms to prepare an "A" and "B" list to control their guest list. There are always certain people you just have to invite, even if the likelihood they'll attend is small. Once you get the first set of RSVP's from your "A" list, you may have room to invite the "B" list.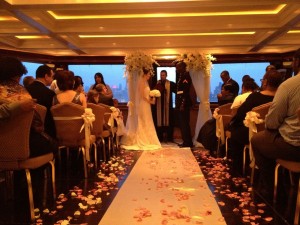 Choose an Officiant: If you're Catholic, your ceremony must be in a church with your priest, and you can have your reception elsewhere. If you would like to celebrate your religious wedding outside of a synagogue or church, you can request your religious leader to officiate on board. You'll need to schedule the ceremony so they either can leave the yacht if they need to, or stay on as a guest. You can also ask a friend, family member, or someone you admire to officiate, if they have the credentials. Our company can provide that service. Our owner, Lezlee, has been marrying happy couples aboard yachts since 2003. Click here to read Lezlee's wedding ceremony.
Consider the Season: You can have your wedding aboard a yacht at any time of the year. During colder months, or with inclement weather, the ceremony is held indoors on our lower deck. We either set up chairs in rows with an aisle down the middle, or we can have everyone seated at their tables with the ceremony in the middle of the dining room. When the weather is clear and warm, the ceremony is held on our upper deck. Music can be heard on all levels. If you are having a late fall or winter wedding, it is nice to have less guests with more indoor space. For the most part, the NY Harbor is relatively calm. Some people are more motion sensitive than others. Bring some wrist-bands, Dramamine, or ginger just in case.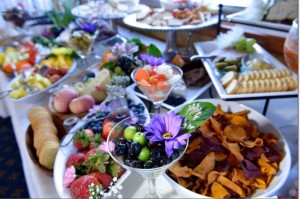 Food Service: Buffet or Sit down? The atmosphere on a yacht is more casual than in traditional catering halls. Buffets on yachts are still as elegant. Guests may not want to sit very long because they are excited to roam the ship and see the views. We usually begin with a cocktail hour of stationary and passed hors d'oeuvres. Then, for weddings, we like to have a plated salad so that everyone is seated. For our wedding menu, click here. Buffets tend to work best on yachts. We call tables up one by one, while always serving the wedding couple. We can certainly take orders at the table for sit-down service. If you plan a sit-down service, plan for an extra hour since it takes a little longer.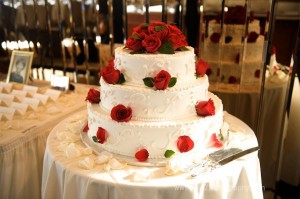 Wedding Cake: We recommend buttercream frosting because it holds up longer than fondant. It is also niceto have a plain cake and then have your florist decorate with fresh flowers. Our wedding package includes a 3-tiered round wedding cake with your choice of cake and filling. We use Homestyle Desserts in Peekskill, NY. We can also provide cupcakes instead of a cake. Some people prefer to bring their own cake on board, and we can provide an alternative dessert.
Giveaways/Keepsakes: Many couples distribute a little something at each place setting, or give something away to guests as they depart. You can have items monogrammed, reflective of your personalities, nautical, useful, yummy, or even just sentimental.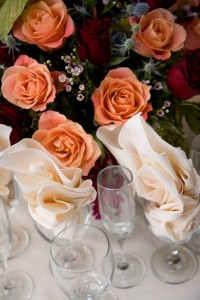 Flowers and Décor: Once you have your final guest count, we will provide a floor plan (click Royal Princess Floorplans). The floor plan is an important aid for you to assign guests to tables. If you choose to make table cards, bring the stack of cards in alphabetical order by last names and table number. You can also have a large poster board on an easel to guide guests to their tables. Some people tie the names and table assignments to the giveaways. Always bring a backup list with table assignments to the Maître D', in case a guest misplaces theirs. Also, your florist will need to know how many tables you're going to have. We usually have a sweetheart table for two at one end of the dining room, unless otherwise requested. While you are free to use any florist of your choosing, we can recommend florists who are reliable and excellent. We include ivory linens, napkins, porcelain square/rectangular plates, silverware, water, wine, and champagne glasses. You may utilize part or all of our house centerpieces. Your florist can help enhance your décor with special linens, candles, outdoor rope lighting, and more.
Entertainment: It's important that your entertainers are experienced with entertaining aboard a ship and that they know how to work a yacht with multiple levels. Your DJ or live entertainers often make important announcements that control the flow of your event. They should be prepared to work closely with our Maître D' to announce when dinner is served, introduce speakers, announce dessert service, alert your guests to important photo moments (such as when we are in front of the Statue of Liberty), include special dances, and other important items. Our company can make entertainment recommendations, so please let us know.
Are children allowed? Of course! Children under 5 are complimentary. For children 5 to 10 years old, you pay half-price.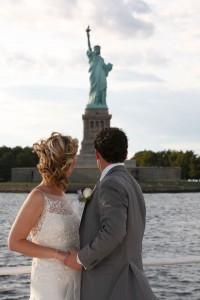 Photography/Videography: We have had so many excellent photographers and videographers onboard that we have compiled an extensive list. It is important that your photographer capture not only the traditional shots, but the skyline, the mood, the décor, and the food–all of which tell the story of your event. Please let us know if you would like recommendations.
Event Planning: Believe it or not, if you remain calm and are organized, planning your wedding should be "smooth sailing". Of course you can never foresee every possible challenge that may arise. But when it comes to your special day, sit back and let us do the rest. We are working behind the scenes for you, so you don't need to stress. A month before your event, we ask you to answer the following questions: Questions for Couples The answers to these questions are used for your detailed Event Summary which goes to our crew, chefs, and staff—this help us make sure everyone is in the same boat!
Having your wedding afloat is unique, romantic, elegant, and fun! Everything is all in one place and we help make the planning simple.